El Mesón restaurant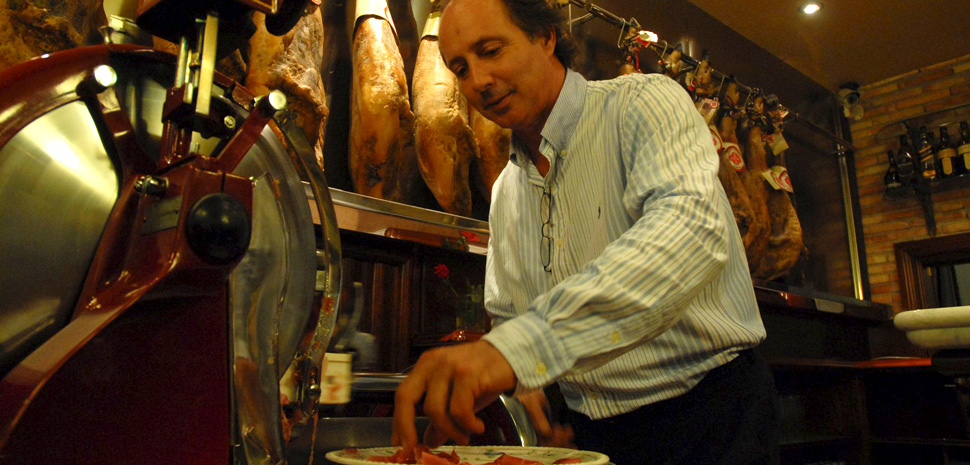 "El Mesón Restaurant" is a byword for quality and good taste in Benidorm. Open since 1980, the restaurant maintains an intimate and traditional atmosphere, along with a long-standing reputation for quality and professionalism.
El Mesón has an innovative spirit thanks to an owner who blends and combines with extraordinary skill its initial classical style with modern keynotes, such as the climate-controlled winery, an oak-fired grill and an outstanding panoramic seafood tank.
El Mesón in Benidorm offers unrivalled quality in its produce , whether the Galician beef or remarkable roasts, all with designation of origin guaranteed, produced by a wonderful team of professionals who aim to develop fine Mediterranean cuisine and local dishes.
The maitre d' is Juan Fernández Arias who serves with the utmost professionalism a full range of starters, including of course the famed Gran Reserva acorn-fed cured ham, fish from the bay and genuine home-made desserts.
Meanwhile, the establishment's renowned bar, light and airy and always full of bustle, is the eye-opening "Cervecería Cruz Blanca", elegant and lively and serving the very finest tapas and bar snacks to the delight of its patrons.
It would be fair to say that El Mesón's best testimonial is its 30-year culinary tradition, organising and taking part in numerous different gastronomic events which have won it an extensive range of accolades, including the "Tourism Merit of the Costa Blanca" award.
A place which you will undoubtedly leave satisfied.
Type

MEDITERRANEAN CUISINE / TAPAS

Price

20-35€

Opening hours

MON-SUN 13:00-17:00h/

20:00-01:00h

Telephone

96 585 85 21

Address

C/GERONA,5. 03503 BENIDORM

Website

GO TO WEBSITE