With friends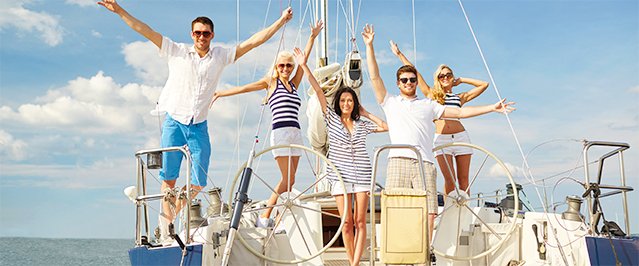 Chill outs, shopping for handicrafts, and an endless blue sea
There's nothing quite like spending your holidays in good company, particularly if you've made lots of plans and they all work out. A gentle climate, easy-going mornings, dancing the night away… all this and much more is what the Costa Blanca Norte is all about.
The chill-out areas that you can find on different beaches in the areas, have become perfect and indeed essential places in which to see and to be seen. The atmosphere in these areas is distinguished, elegant and very enjoyable, somewhat bohemian and always original. One of the best ones is L'Olleta, in Altea, very close to the Playa de la Olla; it has a good atmosphere and they put on great live music for people who can't stand the impersonal macro-discos or the after hours bars. Its original pyramid-shaped architecture helps build the atmosphere: on the ground floor there's an intimate restaurant while upstairs there's a bar and music area decorated with candles, plants, delicate lighting and a number of different stages.
You can continue along this chill-out route by heading on to Calpe where you will find the Puerto Blanco Chill, a terrace-lounge located in the port of the same name, with magnificent views over the sea and the Peñón de Ifach mountain. As it is open all day long, you can enjoy a snack in its comfortable armchairs, or you can have lunch or a cold beer while you watch the sun go down. It is really lively in the summer evenings, with live music and shows. It is undoubtedly the ideal choice if you're looking for a fun and chic atmosphere.
Shopping for handicrafts is another of the strong points of Costa Blanca Norte. You should never leave the area without having spent at least one day exploring its "handmade" stores where you can find just about everything you are looking for. Both in Denia and in Javea, and perhaps most of all in Altea, they are all over the place, nearly always in the old part of town. Shop after shop dedicated to the most original trades: baskets, espadrilles, jewellery, clothes made from natural fibres such as cotton or linen, natural soaps and creams, organic food, decorative objects, shoes…
The Altea Handicrafts Fair takes place in this town's Church Square throughout the summer months and at Easter. If you like original articles, made with good taste and unique designs, you shouldn't miss it! Your day's shopping would not be complete without a trip to Planet Vintage, a unique shopping experience where you can enjoy a good cup of coffee while you browse through furniture, decorations, old clothes, shoes, jewellery, books, cutlery or kitchen utensils. You'll also find lots of so-called pop-up corners here, where designers and artists show off their best creations for limited periods of time.
Also in Denia, you'll be able to find shops with carefully designed articles of clothing that follow the dictates of what is known as Mediterranean fashion, a new concept that combines natural materials such as cotton, linen or silk with the most personal creations of prestigious designers.
The Costa Blanca Norte shopping route would not be complete without stopping by the Pedreguer antiques market, to the north of Javea. Here you can find all sorts of rarities: from vintage clothes and jewellery to vinyl records and decorative objects from the 60s and 70s, to say nothing of glass decorations, lamps, traditional gastronomic produce, flowers or furniture auctions... There is a new surprise waiting for you each time you visit the market. It's just a question of digging around, keeping your eyes open and haggling to find the bargain that's going to brighten up your day.
Tired of all that wandering around? It's time to rest by the sea. The "Platgeta de L'Advocat de Benissa" is ideal if you want to relax in a typical "chiringuito" with your feet buried in the sand. The little bay known as "Cala Baladrar", with its green pine trees will seem to have fallen straight out of paradise just for you, particularly if your visit coincides with the live music they put on during the summer season.
However, if you really want to spend a day in contact with nature, the best idea is to rent a boat and to sail along the coast, diving or calling in at any of the local beaches. In Altea, boats are available for hire from the Marina (the "Club Náutico"), or from the Port of Luis Campomanes/Marina Greenwich. Dance, sunbathe, savour a refreshing drink or enjoy lunch on deck. Live life to the full!